IAEA Publications
Greater Agronomic Water Use Efficiency in Wheat and Rice Using Carbon Isotope Discrimination
Water scarcity, drought and salinity are among the most important environmental constraints challenging crop productivity in the arid and semi-arid regions of the world, especially rain-fed production systems. This publication presents the outcome of an IAEA coordinated research project which is aimed at increasing agronomic water-use efficiency in wheat and rice production. The studies show that the carbon isotope discrimination (CID) which is the ratio of the variation of carbon-13 versus carbon -12 in plant samples (leaf and grain) , is a good selection tool for identifying high yielding genotypes of wheat under drought stress environments for both pre-anthesis and post-anthesis stages. The CID of flag leaf can also potentially be used to select rice genotypes for salinity tolerance and for selecting parental lines for breeding.
Management System Standards Comparison between IAEA GS-R-3 and ISO.
This Safety Report compares the requirements of IAEA Safety Standards Series No. GS-R-3, The Management System for Facilities and Activities, and the American Society of Mechanical Engineers (ASME) Quality Assurance Requirements for Nuclear Facility Applications (ASME NQA-1-2008, NQA-1a-2009). It identifies the similarities and differences between them and provides information and guidance to assist an organization in meeting the requirements of both standards.
This publication addresses recent developments in neutron generator (NG) technology. It presents information on compact instruments with high neutron yield to be used for neutron activation analysis (NAA) and prompt gamma neutron activation analysis in combination with high count rate spectrometers. Traditional NGs have been shown to be effective for applications including borehole logging, homeland security, nuclear medicine and the on-line analysis of aluminium, coal and cement. Pulsed fast thermal neutron analysis, as well as tagged and timed neutron analysis, are additional techniques which can be applied using NG. Furthermore, NG can effectively be used for elemental analysis and is also effective for analysis of hidden materials by neutron radiography. 
Advances in Nuclear Power Process Heat Applications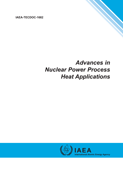 Following an IAEA coordinated research project, this publication compiles the findings of research and development activities related to practical nuclear process heat applications. An overview of current progress on high temperature gas cooled reactors coupling schemes for different process heat applications, such as hydrogen production and desalination, is included.